Our Veterinarians
The ABQ Petcare Hospital team of skilled veterinarians welcomes you to our practice, proudly serving the Arlington and Southwest areas. At ABQ Petcare Hospital, it is our daily privilege to provide quality vet care to your cherished pet, with compassion and competence. We hope to ensure a positive impact on our patients, pet owners and the local community.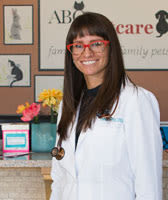 Dr. Loren Ortiz
Dr. Loren Ortiz was born and raised in Las Vegas, NM. She received bachelor degrees in Biology and Spanish with a minor in Psychology from the University of New Mexico. She attended Iowa State University's College of Veterinary Medicine and received her DVM in 2017. She is a member of the American Veterinary Medical Association, New Mexico Veterinary Medical Association, and the North American Veterinary Community. Her career goals include becoming certified with the American Board of Veterinary Practitioners.
Her special interests include critical care, internal medicine, surgery, public health, client education and community outreach. In her spare time she enjoys running, creating art, spending time with her niece and nephew and doing all things outdoors. She is very excited to begin her career as veterinarian in New Mexico.